In Memorandums
In memory of Dr Jin Chun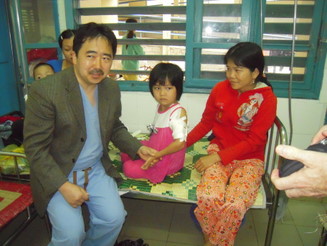 April 2012 - A few week ago the news of Dr Chun's death reached us, Trantien Foundation Board of Directors and staff, as Mount Sinai Hospital colleagues, like a shocking devastation. His death just seems so overwhelmingly sad and unfair, that coming up with the words to say goodbye can seem next to impossible.
To Trantien Foundation Board of Directors and staff, Dr. Chun was not only the Chief Medical Education Officer, a top-notch plastic/ reconstructive surgeon, but a passionate doctor, a leader, mentor and friend, who has lived his life for others. In 2011, he joined the Foundation surgery team on a two-week trip to Hue, Vietnam, as he had planned to do so many times, few years earlier. During that trip he worked every day, in operation and lecture rooms, non-stop, from eight o'clock in the morning to six o'clock in the evening, often without eating lunch. He performed needed reconstructive surgeries for patients who would never afford such sophisticated procedures that completely change their lives, from ones with mental and physical barriers to ones full of hope for a bright future. He opened the mind of Hue plastic surgeons with his extensive knowledge and profound perspectives. He tirelessly helped these unfortunate patients and eager-to-learn colleagues.
This year, the Apr 14-2012 symposium at Hue Central Hospital was a celebration of the life of Dr Chun. All surgeons, local and those from United States, grieved for the loss of a wonderful friend, mentor, and leader.
Trantien Foundation Board of Directors and staff will remember Dr. Chun for his dedication and commitment to the mission of providing free medical and surgical care to the underprivileged in Hue, Vietnam. His spirit will remain as a symbol of compassionate humanitarian medical services.
Dr Chun will be greatly missed for a long long time.
In memory of Dr Hien Tien Tran
May 2012. Dr. Hien Tran came to TranTien Foundation not only as family member but also a psychiatrist with an expertise in socio-psychological problems and inpatient as well as outpatient care. His death is a great loss for the TranTien family and local community around Hue. But he has lived a meaningful life, and has given advices that help many of his patients develop better perspectives on their issues.
After the Communists took over Vietnam in 1975 . He audaciously planned an escape from Vietnam for his family in 1978. After days at sea in a flimsy boat, it was him to make the life changing decision to sink the boat and force the Malaysian Coast Guard to accept them as refugees. After coming to the U.S., he mastered English quickly and then went back to the medical profession by completing his internship and residency. In addition to his psychiatry residency, he completed a fellowship in child psychiatry at Johns Hopkins University School of Medicine. He became Medical Director of the Children's Center at Springwood Psychiatric Institute in Leesburg, Virginia in 1990. Then, in 1996, he joined Dominion Hospital as an attending physician and also set up his private practice, McLean Psychiatry.
In 2010, he joined the Foundation medical team on a two-week trip to Hue, Vietnam. During that trip he carefully interviewed patients referred to him. Realizing that the mental health system in Vietnam is very rudimentary, he decided to focus on raising awareness of the patients' serious psychological issues to local doctors and hospital administrators. He had in mind a full mental health curriculum for local clinical and para-professional staff. He wanted to pass on to them what he knows on the next trip. He would like to spearhead an innovative mental health program in Hue that could change forever the way people look at patients with psychological problems and care for them with a professional humanitarian approach. Unfortunately, he was taken away from us before he could realize his plan.
He believed mental health made a big difference in people's life, and his life experience had made him a better physician. He was a dedicated physician who loved his profession and cared deeply about his patients, and he continued to work until early this month. When he was diagnosed with cancer in June 2011, he said he would fight the battle. He courageously fought cancer until the end. He spoke of the excruciating pain he had endured and wanted to write a book about pain to help other patients. But, he grew too weak and lost that opportunity.
TranTien Foundation Board of Directors and staff will remember Dr. Hien Tran for his dedication and enthusiasm in changing mental health care to be more human and professional. He will be greatly missed.