Minh Trai Class for 40 Kindergarteners
Minh Thanh, Huong Vinh
Huong Tra, Thua Thien - Hue
Affiliated with Dieu De Kindergarten (a division of Hue Buddhist educational system); Administrator: The Most Venerable Thich Nu Tinh Tam
Officially open in August 24, 2010, MINH TRAI CLASS provides early education to 32 young children (age four and five) from underprivileged families in Minh Huong village and surrounding area.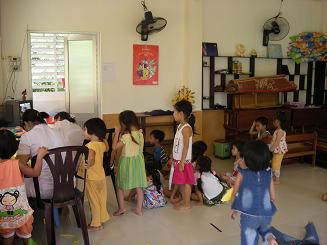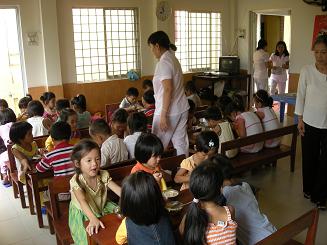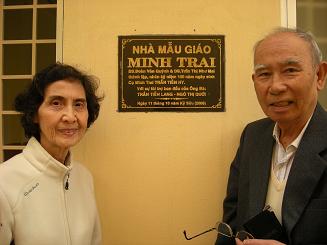 Background
In large cities (Hanoi, Hue, or Saigon) there are private and public pre-schools to provide early education to children age 3 to 6 before they enter the official public elementary schools. But in small villages such as Minh Huong's these children are just left at home in the care of grandparents and older siblings while parents are working in the fields or at the markets. To meet the needs for an early education for the children of Minh Huong's Doctor Doan Van Quynh & Pharmacist Tran thi Nhu Mai (key members of the TranTien Foundation and Tran Tien family, and administrators of Thien Sanh Clinic) had the idea to establish a pre-school. This is also to honor Doctor TranTien Hy, the well respected Oriental Medical Doctor of Hue, their father-in-law and father whose 100th birthday was commemorated on November 27, 2009.
With the initial financial support of Mr. Tran Tien Lang and his wife Ngo Thi Quoi (Tran Tien family members living in Paris ,France), they started the construction of the school on the 250 m2 inherited land next to the Thien Sanh free clinic. The construction was completed thanks to subsequent support from other Tran Tien family members and friends living the France, Canada and Vietnam = Mr Ton That Thang (Montpellier-France), Mr Tran Tien Thong & Mrs Phu Thi Ngoc Tran (Paris, France), Mrs Cong Huyen TOn Nu Binh Minh (Canada), and Tran Tien families living in Saigon, Vietnam.
The building took the name of MINH TRAI CLASS after the pen name of Dr Tran Tien Hy. The school now has, in addition to classrooms and bathrooms, a dining room, kitchen and playground. It is fully equipped age-appropriate furniture, books and educational toys, and meets the government standards for a kindergarten/school at the village level.
Goals and Objectives
This project has two goals:
To start a pilot one-class kindergarten and provide a quality early education program free of charge to young children in the local area.

To develop this pilot project into a full child development program and prepare the children to enter the public elementary school system
Objective: by the third year MINH TRAI Kindergarten will have two classes, and will be equipped with age appropriate and technologically updated educational materials and tools.
The Most Venerable Thich Nu Tinh Tam, a Buddhist nun, is the headmistress and administrator of Dieu De early education Buddhist system, and is overseeing MINH TRAI Kindergarten operation.
Services - A Quality Early Education Program
The program will be offered free of charge to children age three to five from poor and disadvantaged families living in the local area. It is consistent with that of other kindergartens in the larger Dieu De early education Buddhist system. But it is a value-based program which also includes age appropriate Vietnamese history and culture, and civic education. The schedule of activities are meeting the standards established by the government. Lunch and snacks are also provided.
The children will be selected from poor families living in the area. Orphans will be given a priority. Religious affiliation or gender will not be a criteria for admission.
Fiscal Supports
Tran Tien Foundation is providing on-going support for the program (which is estimated to be about $800 per month). But it has been drawing support from the local community and friends of Trantien family as well because it is a quality program, it meets the community needs and it is crucial for the future of the young next generation. The total expenses for the first preschool year (Sep 2010-Jun 2011) with 32 children of age 4-6 from the poor families of the local area were 5015$US. The number of kindergarteners of the second year and after increased gradually to 40 by the demands. Until 2019 with nine preschool years, a total of 402 children aged 4-6 has been educated. Each fiscal preschool year is listed as following:
1st class of 2010-2011: 5015.00 $US for 32 children

2nd class of 2011-2012: 7441.00 $US for 40 children

3rd class of 2012-2013: 7816.00 $US

4th class of 2013-2014: 7646.60 $US

5th class of 2014-2015: 8022.38$US

6th class of 2015-2016: 8287.61$US

7th class of 2016-2017: 9672.00 $US

8th class of 2017-2018 : 8942.00 $US

9th class of 2018-2019 : 9378.00 $US

10th class of 2019-2020: 7784.00 $US
Video tape (2011 Free Minh Trai Kindergarten) (3 minutes)